Campagne:
-

Projectbeschrijving
In 2014 lanceerde IKEA z'n nieuwe ultra-flexibele en modulaire keukenoplossing METOD in België. Er werd ons gevraagd een campagne te maken die gedurende drie maanden de spanning naar de lancering kon opbouwen, zonder de keuken al aan het publiek te tonen. De campagne moest de flexibele eigenschappen van METOD duidelijk kunnen aantonen. Vanuit het inzicht dat als we een keuken kunnen bouwen naar de speelse verbeelding van kinderen we voor iedereen een perfecte keuken kunnen bouwen, lanceerden we

Voorproduct of dienst
IKEA METOD is een uiterst flexibele keukenoplossing van IKEA bestaande uit modulaire bouwelementen, gemaakt voor de persoonlijke behoeften van consumenten. Voor elke ruimte, groot of klein, bestaat een keuken die volledig naar persoonlijke smaak en voorkeur gebouwd kan worden. De grote vrijheid die consumenten hiermee verkrijgen, willen we met deze campagne naar voor brengen.

Doelgroep(en)
Ook zij die een keuken op maat willen, moeten de weg vinden naar IKEA.
Ondanks z'n positie als marktleider in België (volume) wordt IKEA niet beschouwd als een specialist in keukens. Wanneer consumenten een keuken op maat willen, richten ze zich op keukenspecialisten als Ixina/Dovy. Het nieuwe modulaire keukensysteem moet daar verandering in brengen en nieuwe consumenten aanspreken.

Brief

Build up excitement around the biggest range change ever for IKEA Belgium: the highly flexible METOD kitchen system. And do it while getting the most out of IKEA's own media. Be sure to communicate the USP's of the METOD kitchen in the IKEA way. With one major constriction: don't show the kitchen in the first 2 months of the campaign.

Idea

If IKEA can build a kitchen to a child's imagination, we can build a kitchen to everyone's imagination. Via Facebook we asked kids to draw the most crazy, coolest kitchen they could possibly imagine. IKEA promised to actually build the coolest design.

Execution

With zero media budgeting we built a campaign which lasted 3 months, comprising 3 phases and dealing with the constriction that we couldn't show the kitchen the first 2 phases of our campaign. IKEA broadcasted the selection process of the drawing contest for the Coolest Kitchen. The entire budget was used to produce the content. Short documentaries aired on IKEA's owned media channels and YouTube to grow the excitement and keep the attention span going for 12 weeks.

Every documentary further built up the tension, while communicating the USP's of the new METOD kitchen system in an IKEA way. The reveal was the subject of the final documentary. IKEA held its promise and built a pirate boat kitchen with a span of 7 meters. Making it a true attention grabber offline and online.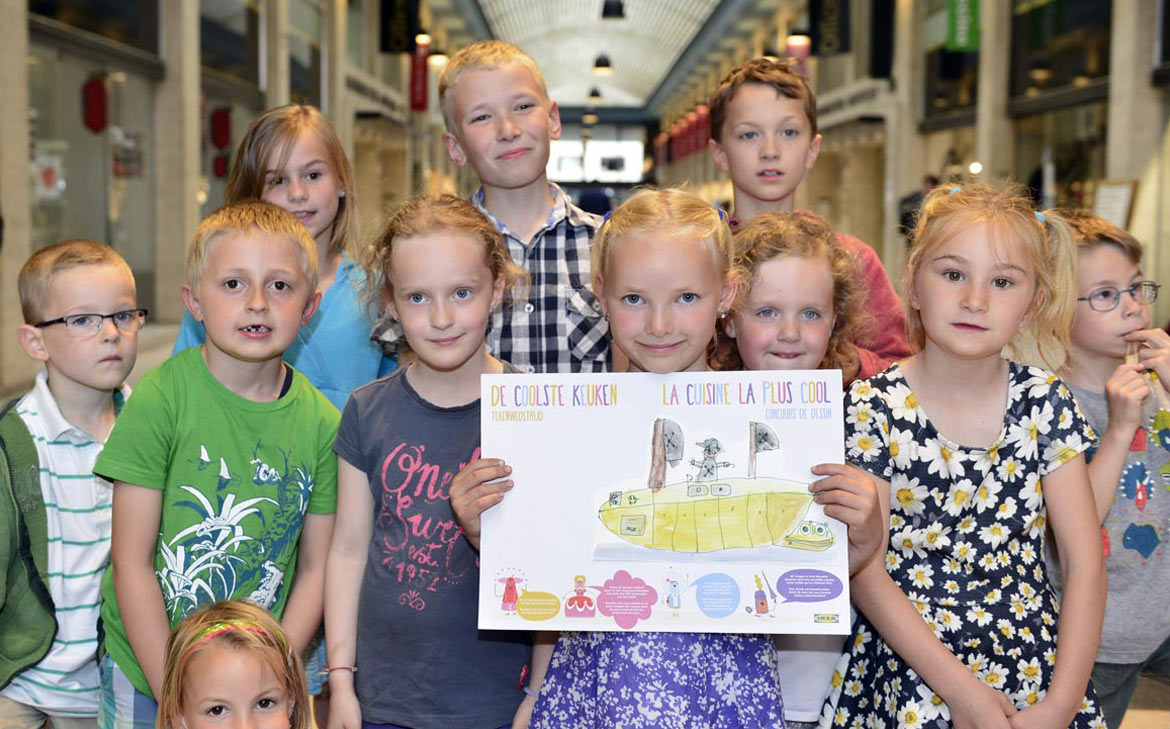 Credits

Concept:
Danny Vissers
Art Direction / Design:
Sjaak Boessen, Sebastiaan Dessaux
Copy / Redactie:
Peter Ampe, Sjaak Boessen
Interaction Design:
Maarten Breda
Technische realisatie:
Brigitte Verduyckt
Account:
Francis Lippens, Kaat De Brandt, Astrid De Paep
Verantwoordelijk bij klant:
Peter Jongert
Overigen:
Peter Ampe



IKEA-de-coolste-keuken-teaser from sjaak boessen on Vimeo.





Zo ziet de coolste keuken van deze kinderen eruit from sjaak boessen on Vimeo.





Noortje tekende de coolste keuken from sjaak boessen on Vimeo.
---
Sjaak Boessen 2018 — 's-Hertogenbosch, NL